Greetings and salutations, friends! I hope that you all have had a lovely January! My month has been full but very good, and I have enjoyed reflecting on some of my favorite things from this January. 🙂
Prayer
This month, I have made a conscious effort to start up a consistent habit of prayer, and it has been absolutely wonderful. I had been struggling with stress for a little while, and I realized that I had been letting my prayer life suffer. After I started making sure to talk to my Heavenly Father every day, I have noticed a difference in my mindset. I have been giving him all of my fears and struggles instead of trying to handle them on my own. I am weak and cannot do everything on my own, but God is all powerful. In my weakness, he is my strength, my peace, my shield, and my salvation.
"do not be anxious about anything, but in everything by prayer and supplication with thanksgiving let your requests be made known to God. And the peace of God, which surpasses all understanding, will guard your hearts and your minds in Christ Jesus."

Philippians 4:6-7
Hoarfrost
This winter, we have had so many days of this absolutely gorgeous, magical frost. Every day that it appears, I thank God for the beauty and intricacy of his creation. Frost is definitely one of my favorite parts of winter, and I am so thankful for the many days that we've had it!
Under Drake's Flag
I finished this audio drama at the beginning of the month, and it was so good! I loved the intriguing story of pirates, cabin boys, the Spanish Inquisition, Sir Francis Drake, and the importance of standing strong in your faith.
The Dragon's Tooth
My brother gave me this book for Christmas, and I'm almost finished with it. I love N.D. Wilson's 100 Cupboards series, so I was super excited to be able to start The Ashtown Burials series! I love the story so far, and I can't wait to continue the story in the coming installments! 🙂
Echo
My mom read this book to my siblings and me, and we all loved it! Part historical, part fairy tale, this unique book was like no other that I've read. It was such a beautiful book, full of memorable characters and tales that all converge into a lovely final story.
Worship Songs
I love worship songs EVERY month, but there are a couple that I have especially loved this month:

"Lion and the Lamb" by Bethel
"Resurrection Power" by Chris Tomlin
Both of these songs have such solid, wonderful lyrics, praising God and the work that he has done.
God's Smuggler
This is the absolutely incredible, convicting story of the journey of Brother Andrew behind the Communist Iron Curtain to deliver Bibles and minister to Christians. One of the most convicting things for me was the reactions these Christians gave when they finally owned the Word of God for the first time in their life. And that made me think: how much do we take the Bible and our religious freedom for granted? Just by myself, I have about five or six Bibles. And too often, I know that I take it for granted. I pray that I would never lose the wonder of the Bible, that the Creator of the universe has given us his perfect, inerrant Word to help us grow close to him and know him intimately. I highly, highly recommend this book!!
Marvel Movies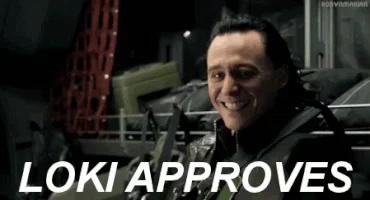 Yes, friends, I have now taken my first steps into that wide world known as the Marvel Cinematic Universe. 😀 My family and I watched six of the movies: Captain America: The First Avenger, Thor, The Avengers, Thor: The Dark World, Captain America: The Winter Soldier, and Avengers: Age of Ultron.
And I am now a huge fan of these movies. 😉
Bet you can't guess what my siblings and I have been quoting from. 😉
---
Well, these are a few of the things I've been loving this past month! I hope that you all are having a fabulous 2020/winter/February so far! So tell me, friends. What are some of your favorite things from January? Have you read any of the books I mentioned? Who's your favorite Marvel character? (Mine is either an unpopular opinion or very common, I'm not sure yet XD). Let me know in the comments!